Fair
Book
SENIOR FAIR BOOK
INFORMATION

2020 Senior Fairbook
Junior Fair Book
INFORMATION

2020 JR FAIRBOOK - Entire
JUNIOR FAIR
DEPARTMENTS

2020 JFB BEEF DEPT


2020 JFB DAIRY DEPT


2020 JFB DOG DEPT


2020 JFB FFA


2020 JFB GOAT DEPT


2020 JFB HORSE DEPT


2020 JFB LIVESTOCK JUDGING


2020 JFB POULTRY DEPT


2020 JFB RABBIT CAVY DEPT


2020 JFB FAMILY RULES QA


2020 JFB SHEEP DEPT


2020 JFB SWINE DEPT


2020 GIRL SCOUTS
2020 Entry
Forms
Livestock Entry Forms have been provided to advisors. DEADLINE IS JUNE 1, 2020.
OPEN LIVESTOCK AND EQUINE
INFORMATION

OPEN LIVESTOCK ENTRY FORM with COVID


OPEN BEEF DEPARTMENT INFO


OPEN DAIRY DEPARTMENT INFO


OPEN GOAT DEPARTMENT INFO


OPEN FAIR SHEEP INFO


OPEN FAIR SWINE INFO


OPEN HORSE SHOWS
SENIOR FAIR/OPEN CLASS
INFORMATION

Art Hall Entry Packet


Coloring Page


Horticulture Hall Entry Packet
GIRL SCOUT
INFORMATION

Girl Scout Entry Form


Girl Scout Rules and Regulations
GENERAL
INFORMATION

Livestock Tampering Rules


Rules and Regulations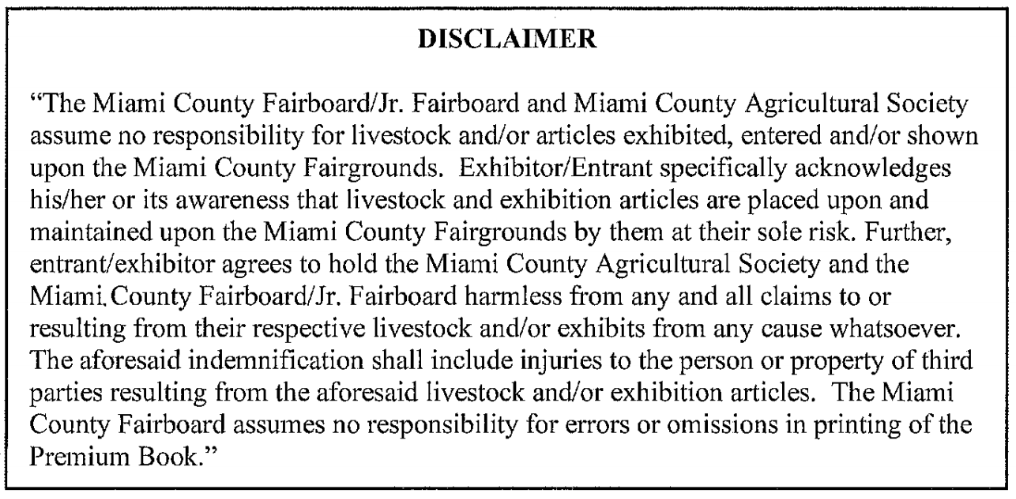 NOTICE: Some content in the fair premium book may change after publication date. Contact appropriate fair board director or fair office for inquiries.